Nine-year-old Christlande Mattieu stands up from a chair and takes her first uncertain steps on a shiny new red, blue, and yellow artificial leg. Slowly crossing the cavernous prosthetics and orthotics laboratory at Hospital Bernard Mevs Project Medishare in downtown Port-au-Prince, she falters and then steadies herself as she turns to make her way back to the chair.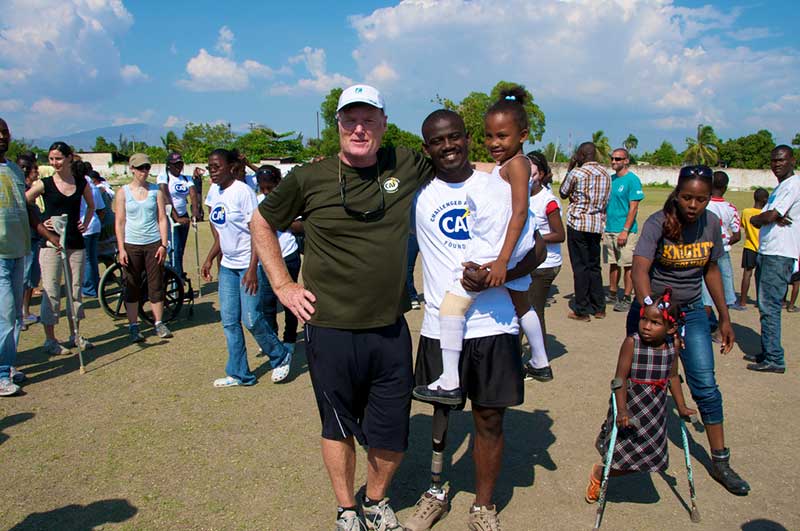 "Put the weight on the prosthetic, and then you can turn," counsels Wilfrid Macena, a prosthetics technician on the hospital's four-man rehabilitation team, which helps thousands of Haitians get back on their feet every year.
Again and again, the little girl retraces her steps, still leaning on one of the crutches she began using when doctors amputated her left leg above the knee in April 2014. They had no choice. An infection on the leg had invaded the bone.
Yet, in less than three hours of determined practice, Christlande sheds the crutch, striding, pivoting, and beaming with newfound confidence.
She is already beating the odds. Above-knee amputees typically require weeks of intensive therapy to learn to walk on a prosthesis without aid. But Christlande has an advantage: Macena not only customized and fabricated the plastic socket that holds her prosthesis snuggly in place in Bernard Mevs' Ossur International Prosthetics and Orthotics Laboratory; he knows exactly how it feels to lose a leg and adapt to an artificial one.
He demonstrates with his own artificial leg, which, with shock absorbers, hydraulic knee, and a mechanism that adapts his gait to uneven terrain, is more advanced.
Before the quake we knew nothing about rehabilitation. From the negative we found a positive.
Now 30, Macena has far more than technical skill. To the hesitant child and to the University of Miami's Robert Gailey, a professor of physical therapy who helped Macena and two of his fellow rehabilitation technicians find new purpose after Haiti's catastrophic earthquake, he is an ideal role model, a living example of the unbreakable spirit of the Haitian people.
When the earth shook in January 2010, a tumbling wall crushed Macena's right leg. The former welder spent eight days seeking medical help. He finally reached a hospital in neighboring Dominican Republic, where doctors amputated the leg above the knee.
Instead of cursing his fate, Macena became a model patient, even learning to kick a soccer ball on crutches. When he returned to Haiti, Gailey and his team fitted him with the first above-knee prosthesis issued at the tent hospital UM and Project Medishare opened at the Port-au-Prince airport nine days after the quake.
That terrible temblor left approximately 1,500 survivors like Macena with missing limbs. Gailey, who had never been to Haiti before, was determined to help them resume their lives with dignity and mobility, just as he has done for countless U.S. soldiers who lost limbs in Afghanistan and Iraq. Joining forces with the Knights of Columbus, which is providing prostheses to every Haitian child who needs one, he set out to dispel the stigma that amputees somehow deserved their fate and had no place, no value, and no future in Haiti.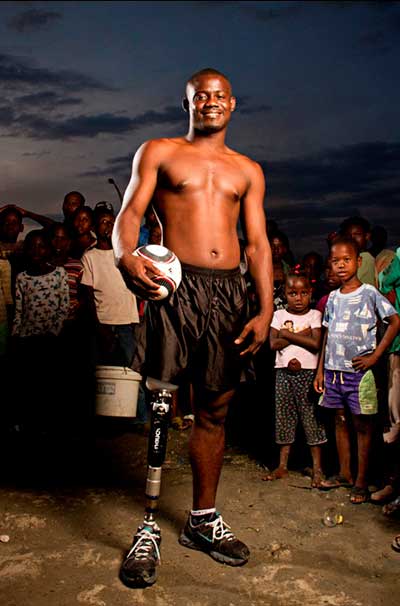 Macena wasted no time in conveying that message. Within five minutes of being fitted with his first artificial leg, he was walking. Within 30 minutes, he was running.
A few months later, he and Cedieu Fortilus, one of the Haitian translators at the tent hospital who helped Macena navigate and eventually learn English, founded Haiti's first amputee soccer team. Captained by Macena, the team inspired a grieving nation. Today, Team Zaryen — the Creole word for tarantula, a lethal spider that grows even more determined when missing a leg — continues to dispel the country's view of amputees.
And Macena, Fortilus, and Emmanuel Kernand, a second Haitian translator who worked at the tent hospital, continue to prove the value of rehabilitation programs in a country with so few of them. They collectively enable many of the nearly 10,000 patients they see annually at Bernard Mevs, the community hospital that assumed the tent hospital's critical care and trauma missions when it closed, resume normal lives.
They never imagined such a calling could be theirs. But with Gailey's continued fundraising support and the steady guidance of Thomas Iwalla, a former Jesuit priest and an internationally certified prosthetist and orthotist from Kenya, Fortilus and Kernand help patients recovering from surgery, injury, or disease regain function and mobility through proper physical therapy.
"One of the best things for me, and for my colleagues, is we are useful persons in Haiti," says Fortilus, who like Kernand, graduated from a rehabilitation technician program operated in Haiti by Loma Linda University. "We help people who are really in need. We see a lot of stroke patients who have limitation on one side of their body, so we work with them day to day and they recover function. It is like a miracle."
Adds Kernand, "Before the quake we knew nothing about rehabilitation. From the negative we found a positive."
Nodding in agreement, Macena explains his perpetual smile and sunny disposition. "I can tell you I feel always happy, always smiling, because I see my people get back life. When you see me, you see my country."
Today, Macena spends his time at Bernard Mevs learning his new craft from Iwalla, who also supervises a pilot project aimed at training Haiti's future rehabilitation pioneers through distance learning. Together, they refit young earthquake survivors who have outgrown their prostheses or patients who have recently lost a limb with the custom-fitted plastic sockets that will hold the replacement in place.
Working inside a large, noisy metal laboratory without air conditioning, they make molds for the plastic sockets by taking a plaster cast of each patient's residual limb. Later, the molds will be encased in plastic melted in a 482-degree oven. Once the plastic cools, they remove it from the mold, and assemble the prostheses from components donated by U.S. companies or purchased through Knights of Columbus funding.
The work is hot, painstaking, and vital. If the socket does not fit perfectly and comfortably, the patient will be unsteady and have a difficult time gaining the confidence to use it, as Christlande could attest. When the 9-year-old begins crossing the workshop, Iwalla has to adjust the length of her new leg a few times. But as her walk steadies and her confidence and smile grow, he and Macena know the socket is a good fit.
"I am so happy," she says in Creole. "I can't wait to show my friends my new leg."
Gailey is not there to watch the child take Macena's hand and walk slowly down the stairs and into a more promising future. He rarely visits Haiti these days, preferring to save the money he would spend on a trip to help pay the salaries of Bernard Mevs' rehabilitation team.
"I am proud of all we have accomplished in Haiti," Gailey says, "but I am most proud of what our Haitian technicians have been able to do. They've gone to school and they come to work every day to take care of their countrymen, and they do it, not just for a paycheck, but because they can make a difference."