When the earthquake decimated Port-au-Prince, Elizabeth Greig, M.D. '10, was a fourth-year Miller School of Medicine student who had just written a trauma and disaster plan for Haiti. She knew only too well how vulnerable its capital was, how vast its needs.
Eight days later, Greig, already a volunteer with Project Medishare, was in Haiti, coordinating patient transfers and care at the University of Miami Global Institute/Project Medishare's 240-bed hospital at the edge of the Port-au-Prince airport.
For nearly a month, she worked 18-20-hour days, leaving only once—to attend her own wedding in Miami and honeymoon on St. Barts. A week later she was back in the field hospital with her husband, also a medical student.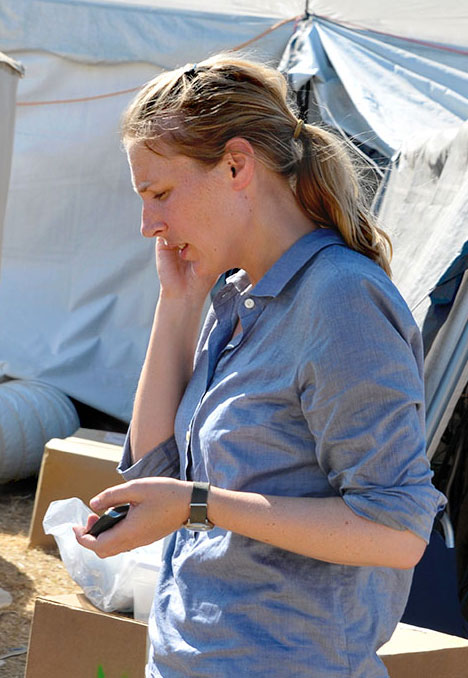 Today, Greig is an assistant professor of medicine at the University of North Carolina Chapel Hill. She returns to Haiti regularly to volunteer her medical skills. She also serves on Project Medishare's executive committee and is working with a consortium of universities led by UM to develop a trauma network there.
"UM and Project Medishare's initial work to build a field hospital was always viewed as a long-term infrastructure and capacity building plan," she explains. "Five years later, that groundbreaking trauma and critical care field hospital still exists in a bricks and mortar facility, and still serves Haiti with the highest level of trauma, surgical, and critical care—unavailable anywhere else in the country."
She says the "dedication and sacrifice of so many people affiliated with UM speaks to the ethos of this University to serve others."
Greig knows firsthand how tough it can be to persevere sometimes—and how critical.
"Years two and three after the earthquake I found endlessly frustrating. Every time I would go back, I would become more and more disillusioned that things were changeable," she admits. "If I learned anything in those two years from people who work and live in Haiti, it is that you keep plugging away, and you stay optimistic, no matter what. Sometimes the issues seem so overwhelming that you get stuck at the 'where do we even start here?' stage of planning.
"Then, in year four," she continues, "I had a chance to pick my head up, look around and take stock of all of what had been accomplished—and it's just incredible. Now more than ever I have my optimism."
Greig has a new reason for optimism these days. She and husband Jason Extein, a diagnostic radiologist, are expecting their first child in February. "A future Hurricane!" she proclaims.
Greig and Extein, along with Greig's parents, remain actively engaged in improving health care resources in Haiti. "It was impossible to be involved during that time without it having a long-term effect, and for us, that has become a family affair," she says.
I had a chance to pick my head up, look around and take stock of all of what had been accomplished—and it's just incredible. Now more than ever I have my optimism.
Greig's work in Haiti also informs her career as a physician and professor in North Carolina, where she is addressing what she calls the "domestic health care crisis in primary care" in her own country.
"Like work in Haiti, it has its great rewarding moments and heartbreaking setbacks," she says. "But it's nothing like the hardships still faced in Haiti today. Continuing to work in Haiti has kept those setbacks here in the United States in perspective for me."
Still, Greig's most recent visit to Haiti, in May 2014, has lifted her hopes for the future. "I went down with Project Medishare leadership to meet with the prime minister about building the trauma center we have been working on since before the earthquake," she reports. "I'm very pleased to say we walked away from this meeting with a government endorsement and funding."
In October, the Haitian government committed $5 million to help build a new trauma center in Port-au-Prince.