The earthquake knocked out telephone, cellular, and Internet service in Port-au-Prince. Satellite service was spotty at best.
Fortunately for their patients, doctors at the newly erected University of Miami Hospital in Haiti had the world's oldest, and still most dependable, wireless technology just 25 yards from the facility's pediatric ward.
Their lifeline during that critical month following the January 2010 disaster was known as WX4NHC/HH2, a ham radio station established by Julio Ripoll, B.Arch. '81, at the request of Ronald Bogue, assistant vice president for facilities and services at the Miller School of Medicine.
Having coordinated field hospitals in Europe for the U.S. Army, Bogue knew the value of the amateur, or ham, radio service. Using batteries and wire antenna, ham radios can communicate thousands of miles by bouncing radio signals off the upper atmosphere, "similar to reflecting light on a mirror," explains Ripoll, who established just such a station for the National Hurricane Center back in 1980, while still a UM architecture student.
Built in two days, the two ham radio stations created a vital link between the hospital at the Port-au-Prince airport and the Global Institute/Project Medishare's Haiti Relief Task Force on the Miller School of Medicine campus. The stations enabled volunteers to coordinate dozens of patient transfers to the U.S. Navy hospital ship USNS Comfort, connect doctors at remote clinics with University specialists for emergency consults, convey landing coordinates for helicopter pilots conducting medical evacuations, and locate urgently needed supplies and equipment such as incubators for premature babies and food for children stranded at an isolated orphanage.
With the Haiti mission completed, Ripoll helped his alma mater get another station up and running. Using the returning equipment from Haiti, he worked with Michael J. Kelley and other hams at the Miller School to set up a permanent station at the Clinical Research Building on the medical campus. The aptly named K4UMH (University of Miami Hospital) began operating in early 2014 with local and international capabilities.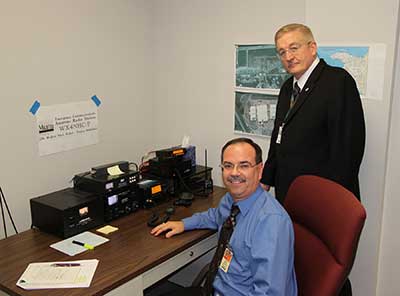 When UM built its tent hospital in Haiti, Kelley, at the time the University of Miami Medical Group's vice chair for administration, became its chief administrative officer.
"We founded the K4UMH station after seeing firsthand its critical importance in Haiti. Now, staffed by a group of UM employees who are licensed operators, our role is to support the medical school leadership during a time of crisis," Kelley explains.
It was in Haiti where Kelley, now executive director of strategic operations at Bascom Palmer Eye Institute and the Anne Bates Leach Eye Hospital, became a diehard ham fan. After earning his own amateur radio license, KJ4YDX, he signed on as a volunteer operator at the National Hurricane Center, where Ripoll has been coordinating ham radio operations for the past 35 years.
"Ham radio is a critical backup system used to support disaster response internationally and domestically," Kelley says. "Cell towers lose power, telephone circuits get overloaded, and wires go down. That is why FEMA is increasing its dependence on what some view as an 'old school' technology—radio always works."
Ripoll, a Miami architect specializing in medical facilities, couldn't agree more.
"The Haiti amateur radio mission for UM/Medishare was the pinnacle of my ham radio career. It used everything I had learned over the previous three decades about volunteer organization, radio equipment and antennas, emergency communications, radio island expedition skills, and even governmental diplomacy," he says, reflecting proudly on his unique ability to aid UM's emergency efforts. "All the volunteers with our group took time away from work and family, took personal risks, and made many sacrifices for this mission. Our reward was knowing that what we did helped the UM medical team save lives."
Five years after the quake, UM's connection with Haiti remains loud and clear.
"There are several active ham radio operators we frequently maintain contact with in Haiti," says Ripoll. Chief among them is Jean-Robert Gaillard (HH2JR) Ripoll's longtime contact who was the first ham radio operator on the air from Haiti shortly after the earthquake. As president of the Radio Club d'Haiti, Gaillard helped Ripoll with technical support and governmental licensing for the Haiti station. He also continues to provide critical surface reports from Haiti to the National Hurricane Center during major storms.
Coincidentally, says Ripoll, when K4UMH conducted its first radio check last year using a worldwide frequency for ships at sea and emergencies, it was Gaillard who answered the call—"with a strong signal."