The earthquake of Haiti's nightmare struck just before 5 p.m., killing tens of thousands people, toppling buildings, and destroying much of the country's infrastructure.
Understandably, humanitarian aid in the form of food, medical supplies, tents, blankets and drinking water poured in.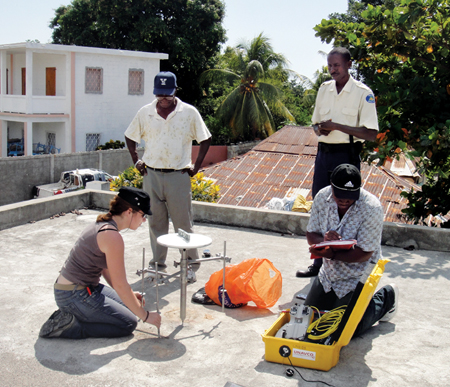 But in the rush to aid victims of a temblor so strong that it could be felt in eastern Cuba more than 200 miles away, could we have overlooked the likelihood that another, perhaps equally destructive, tremor could strike Haiti in the near future?
A former University of Miami doctoral student and other geologists who traveled to the island nation in 2010 to determine what caused the quake said it's a strong possibility. Using data from GPS devices placed at critical points throughout the Haitian topography, they found that an unmapped rupture—now called the Léogâne fault after the port city that lies about 20 miles west of Port-au-Prince—caused the January 12, 2010 tremor.
Such news doesn't bode well for Haiti, because stress along the Enriquillo-Plantain fault, which had originally been blamed for triggering the quake, still exists and "could set off another tremor some time in the future," explained Falk Amelung, a professor of marine geosciences at UM's Rosenstiel School of Marine and Atmospheric Science.
While Amelung was not among the researchers who went to Haiti in 2010 as part of an NSF Rapid Response Science Mission, one of his former Ph.D. students, Estelle Chaussard, made the journey, calling the discovery of a second fault the "the most surprising outcome of our work."
"It changed what we knew about the existing risks in the region," said Chaussard, who is now a postdoctoral fellow at the University of California, Berkeley. "While we cannot predict earthquakes, at least not yet, our survey helped assess the threat posed by earthquakes in [Haiti] by identifying all the potential sources of earthquakes."