Wearing his ever-present smile and the brown cassock of his Catholic order, Brother James Kim holds up two fingers and asks his patient to count them. "Two," 61-year-old Onivin Mezalien replies in Creole with a near toothless grin. "I see two."
Kim assures Mezalien that, by the following week, his vision will be even clearer, but Mezalien is already delighted. For more than a decade, his eyes were so clouded by cataracts he could discern shadows but not shapes, and certainly not fingers. Now, he can see again.
As a volunteer ophthalmologist at Bascom Palmer Eye Institute's clinic at Hospital Bernard Mevs Project Medishare in Port-au-Prince and one of maybe 50 ophthalmologists in all of Haiti, Kim is equally delighted because he has the diagnostic tools to help patients like Mezalien regain their sight. The previous summer, Michael J. Kelley, executive director of Bascom Palmer's strategic operations, organized the donation of the most advanced ocular ultrasound system in Haiti, and a course to train many of Haiti's ophthalmologists how to detect hidden eye diseases with it.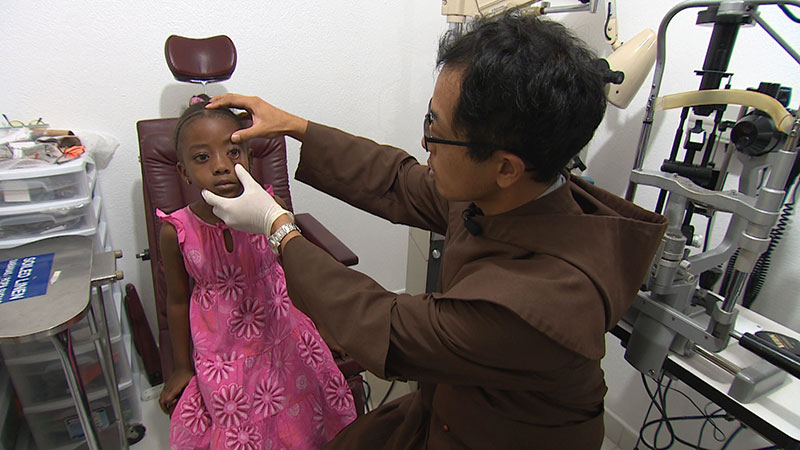 Kim used the machine to look behind Mezalien's clouded lenses and into his eye to ensure there was no other reason, such as a detached retina, tumor, or diabetic retinopathy, for his lost vision. The test confirmed he was a good candidate for cataract surgery.
Other patients aren't as lucky. "Too many people—they come too late," says Kim, a fellowship-trained glaucoma specialist from Korea who staffs the clinic twice a week. "Their tumors are too big or their disease is so advanced there is nothing for me to do—except pray."
Outside the clinic, in a covered breezeway off Bernard Mevs' main courtyard, nearly two dozen men, women and children fill the benches, waiting to see Kim, who spends most of his time in a nearby village caring for elderly Haitians abandoned by their families. Inside, two tiny rooms are crammed with ophthalmology books from Bascom Palmer and nearly $1 million worth of diagnostic and therapeutic tools, including the ocular ultrasound, that Kelley and Dr. Richard K. Lee have provided through tireless fundraising and donor development efforts. A glaucoma and cataract specialist given to sharing his expertise around the world, Lee took Bascom Palmer's Vision Van to Japan after that country's devastating 2011 earthquake and tsunami.
Both men served at the critical care field hospital the University of Miami and Project Medishare established at the Port-au-Prince airport nine days after the earthquake, and today remain co-directors of the ophthalmology program that transitioned from the tent hospital to Bernard Mevs. They also share the same goal. They are determined to provide Haitian ophthalmologists, only about 1 in 5 of whom are surgeons, with the tools and the training that allows them to expand their expertise, and enable more Haitians to receive the eye care they need before it is too late.
"What we're trying to do is have a sustainable footprint in Haiti, so the first step is to stock it with state-of-the-art technology; the second is to educate Haitian ophthalmologists on the latest best standard of care in conjunction with the Society of Haitian Ophthalmologists," says Lee, who is working with the American Academy of Ophthalmology and the Pan American Ophthalmology Association to bring visiting eye surgeons to Haiti on training missions, and with other U.S. volunteers who can provide video consultations on difficult cases. "The goal is to be so successful that they will never need us back there again."
Kelley and Lee will soon add two more vital pieces of donated equipment to Bernard Mevs' arsenal, which like the ultrasound system, will be available to the Society of Haitian Ophthalmologists. One is a next-generation imaging device donated by Bioptigen that can detect eyes diseases in their earliest stages; the other an eye camera that will enable society members to launch community screening programs.
What we're trying to do is have a sustainable footprint in Haiti, so the first step is to stock it with state-of-the-art technology; the second is to educate Haitian ophthalmologists on the latest best standard of care.
Early and regular screening is vital because, as Lee's research on Miami's large Haitian population and alarming anecdotal evidence in Haiti shows, Haitians appear to be genetically predisposed to eye diseases, particularly glaucoma, which causes more and more irreparable damage to the optic nerve as it progresses.
"In Miami's Little Haiti, we found that Haitians have a significantly higher incidence of glaucoma, and they get it younger, and it is more severe and advanced when discovered," Lee said. "If we find it early enough, glaucoma is manageable, and therapy or surgery can preserve the remaining eyesight. If we don't, patients go blind, and sadly we see many young Haitians in Miami, some in their 30s, who will lose their sight."
One of only two glaucoma specialists in Haiti, Kim estimates that 20 percent of the glaucoma patients he sees at Bernard Mevs are under 40 and 3 percent are children. Some babies he cannot help because he lacks enough of the tiny, implantable valves that would reduce pressure in their eyes, and possibly save their sight. He looks forward to the day he has enough resources and colleagues to help Haiti fill its vast unmet eye care needs.
Kelley and Lee know that day lies in the distant future, but they remain motivated by the dozens of patients who line up at Bernard Mevs' eye clinic every week for the kind of care that wasn't available to them before the earthquake.
"I think of Haiti almost every day," Kelley says. "I've continued to try to do my small part in making things better, and am comforted by the fact that you don't have to cure everything. If you just knock off one thing, you can make an impact."