During the 2013 winter break, a group from UCatholic Campus Ministry, which began taking trips to Haiti after the earthquake, touched down in Port-au-Prince for a quick, one-week visit.
The students, from the University of Miami, Florida International University, and St. Augustine Church, spent their time at the Missionaries of Charity compound in Haiti's capital. For six hours each day, the dozen volunteers tended to the personal needs of poor and abandoned Haitian infants and toddlers, feeding them, changing diapers, and playing games that transcended the language barrier.
… now all I think about is when I can go back again.
"It was hard trying not to quantify my efforts," said Aidan Breen, a missionary from St. Paul's Outreach serving at St. Augustine. "We were doing the kind of work that can't be physically measured."
The majority of children in the hospital suffered from severe malnutrition. Many have parents who are still alive, but can't afford proper medical attention.
When the children arrive, many are so swollen from vitamin deficiencies that their eyes are closed shut.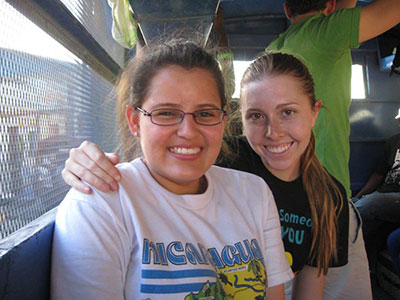 "To see the kids suffering in the hospital was really hard," said UM sophomore Chelsea Dahline. "But it is amazing to see how quickly they can recover with the right food and care."
After just four days in the hospital, many of the children showed vast improvement.
"First they get really skinny with just the swollen belly," said UM sophomore Yazmine de la Cruz. "But then they slowly start looking normal, and you can see the difference you made."
On other days during the weeklong trip, the heavy metal doors of the compound were opened, and the student volunteers helped distribute donated food and medical supplies to more than 600 residents of Port-au-Prince.
"I was at the beginning of the line," said UM senior Julian Urrego. "I made an effort to greet everyone with a smile and eye contact as well as a 'bonjou.'"
After a week of rationing the drinking water purchased from a grocery store near the compound, and living off the non-perishable food packed in two suitcases from Miami, the perspectives of the volunteers had changed.
"The trip definitely made me appreciate what I have more," said FIU junior Alex Carpio. "It put things in perspective, and now all I think about is when I can go back again."