Frequently Asked Questions | University of Miami Home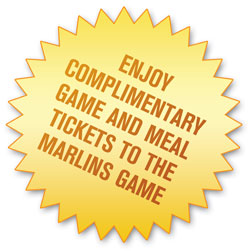 As a way of showing its appreciation, the University is inviting all faculty and staff and their families to a fun-filled evening out at the ballpark.
University of Miami Family Night with the Florida Marlins, which will be held on Saturday, August 18 , will include complimentary tickets and food for all faculty and staff, as well as discounted tickets for their family members. This University event will feature pre-game festivities, with the first pitch thrown out by Miller School Dean Goldschmidt—and, of course, great baseball, as the two-time world champion Marlins take on the San Francisco Giants. The game starts at 7:05 p.m. at Dolphins Stadium, and the pre-game festivities will take place from 5 to 7 p.m. in the Gate D Helix.
Complimentary tickets are available for faculty and staff only; every University regular employee is eligible. Each employee can receive one free ticket and may purchase three guest tickets for $1 each. If you wish to obtain more than three guest tickets, additional tickets are $6 each. Each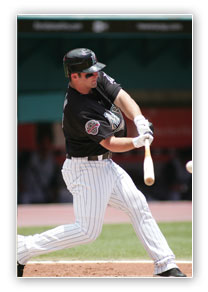 employee and their first three guests will also receive a complimentary meal voucher for a hot dog, chips, and soft drink. Parking at the stadium costs $10 and is not included. Parking is available starting at 4:35 p.m. for Gates 2, 3, or 5.
You must have a valid 'Canes Card (UM ID) to receive your tickets; only one ID card per person will be permitted. You can only receive tickets at a single ticket distribution session; you cannot go multiple times. Only cash will be accepted for additional ticket purchases. Ticket distribution will be held at the following locations and times:
Coral Gables Campus: Wednesdays, July 11 and 25, August 1, 10 a.m. to 2 p.m., Richter Library Breezeway
July 11, 10 a.m. to 2 p.m., Gables One Tower and Mark Light Stadium
Miller School Campus: Wednesday, July 18, Fridays, July 27 and August 3, 10 a.m. to 2 p.m. (until 6 p.m. on July 27), Schoninger Quadrangle
Rosenstiel School Campus: Mondays, July 16 and 30, 10 a.m. to 2 p.m. Dean's Office second floor breezeway